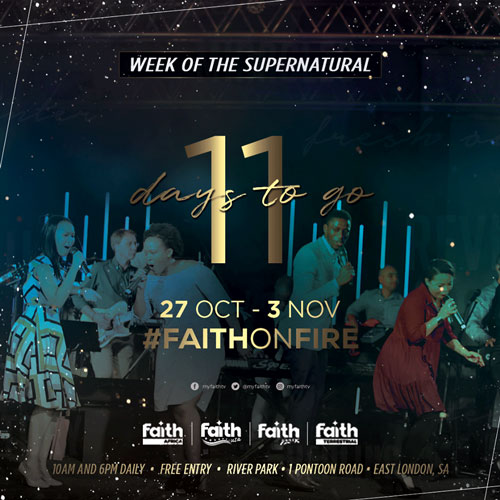 Come together for a time of Faith, Miracles, Wonders and hearing the word of God in experiencing the fire of the Holy Spirit.
With hosts Dr. Andre & Jenny Roebert
and guest speakers:
Nicky van der Westhuizen
Haruna Goroh
Wessel du Bruyn
Siva Moodley
John Torrens
Greg Ball
All the sessions are televised live on Faith Africa on DSTV channel 341, Faith UK on Sky channel 594 & Freeview 271 as well as Faith Terrestrial on Sentech Channel 501 and Faith USA on
Atlanta GA, WEQT 9.6
Chicago IL, WRJK-TV 22.8
Dallas TX, KLEG-TV 44.6
Denver CO, KHDT-LD 16.6
Granite Falls MN, K29JW-D 29.5
Los Angeles CA, KVMD 31.6
Orlando FL, WACX-DT 55.9
Palatka FL, WJGV-CD 48.3
Philadelphia PA, WSJT-LD 415.3
San Jose CA, KSCZ-LD 16.17
Washington DC, WRZB-LD 31.6
Streaming:
Apple TV
Roku
Amazon Fire TV
Android TV
Cross TV
Truli
Faith Stream
MyFaith.TV Facebook Live
Faith Broadcasting Network YouTube
Come and join us for 8 nights filled with powerful worship and teaching. Expect a fresh touch from God.
Hosted by Dr. André and Jenny Roebert at River Park, East London
27 October – 3 November 2019. Broadcast 24 hours daily.